Spicy Shrimp Tacos with Creamy Avocado Sauce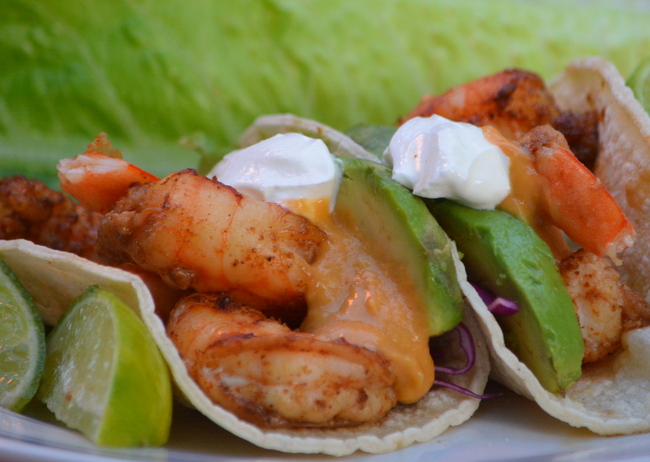 Jump to recipe
Tacos have historically been considered a kind of  street food, that came out of the taquerías in working class Mexican neighborhoods.  Having come to the US in early in the 20th century, the taco has recently burst onto the scene in even the poshest of restaurants and have even inspired a whole slew of memes ("Inhale Tacos; Exhale Negativity," "My Indian name is Runs with Tacos," "You cannot make everybody happy; you are not a taco.")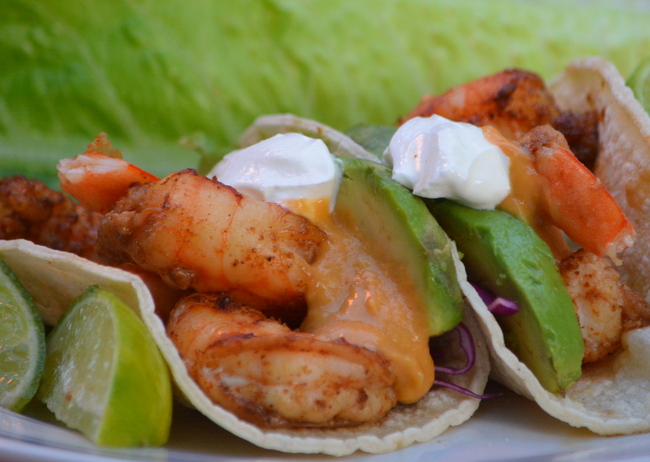 This is my little twist on the taco that packs plenty of flavor and spice.  It's perfect on a summer day with a white sangria and a bibb salad with a little mango salsa with a white balsamic vinaigrette.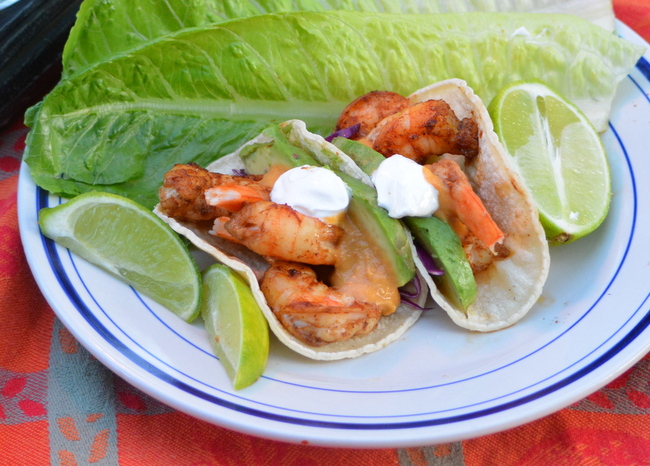 Spicy Shrimp Tacos with Creamy Avocado Sauce

Ingredients
For the Sauce:
1 small shallot
2 jalapenos
1 tomato
1 avocado
3/4 teaspoon salt
Juice of two limes
For the Shrimp:
1-1/2 tablespoons olive oil
1-1/2 teaspoons chili powder
Juice of 1 lime
1/2 teaspoon salt
1/2 teaspoon red pepper flakes
2 pounds large or extra large shrimp, peeled and de-veined
For Tacos:
16 - five-inch corn or flour tortillas
Avocado slices
1 cup chopped red cabbage
Lime wedges
1/2 cup of sour cream
Instructions
Mix the shrimp with olive oil, chili powder, lime juice, sale and red pepper flakes in a ziploc bag or sealed container and place in the refrigerator for one hour.
For the sauce, blend all ingredients until smooth and set aside.
The shrimp can be cooked under a hot broiler just until done (about 3 minutes) or over medium heat on a well oiled grill until just opaque for about 2 minutes per side.
Warm the tortillas on the grill or in a pan with a dab of olive oil.
To assemble, place 2-3 shrimp into each tortilla. Top with one thin slice of avocado and a sprinkle of cabbage. Spoon sauce generously on top and add a small dollop of sour cream. Serve with lime wedges. You will have leftover shrimp, and they will be great in a salad tomorrow night!
© 2023 © 2018 Erika N. Wyatt & Life, Love and Lemons. All rights reserved.