Pressure Canned Chicken Stock
Jump to recipe
My second foray into home canned chicken stock was much more successful than my first. My stock came out beautifully clear this time. Make sure not to cook the stock too long as it will get filled with minute particles and use a very fine sieve to strain it before canning.
I opted to use some Asian flavors – green onions and ginger – to add flavor to this recipe, but you can use white or yellow onions just as well, and you can omit the ginger.
Making your own chicken stock offers several benefits and advantages compared to store-bought options or boullion. Homemade chicken stock typically has a richer, deeper flavor compared to store-bought versions. You can customize the ingredients, seasonings, and cooking time to create a stock that perfectly suits your taste preferences, including reducing the sodium level.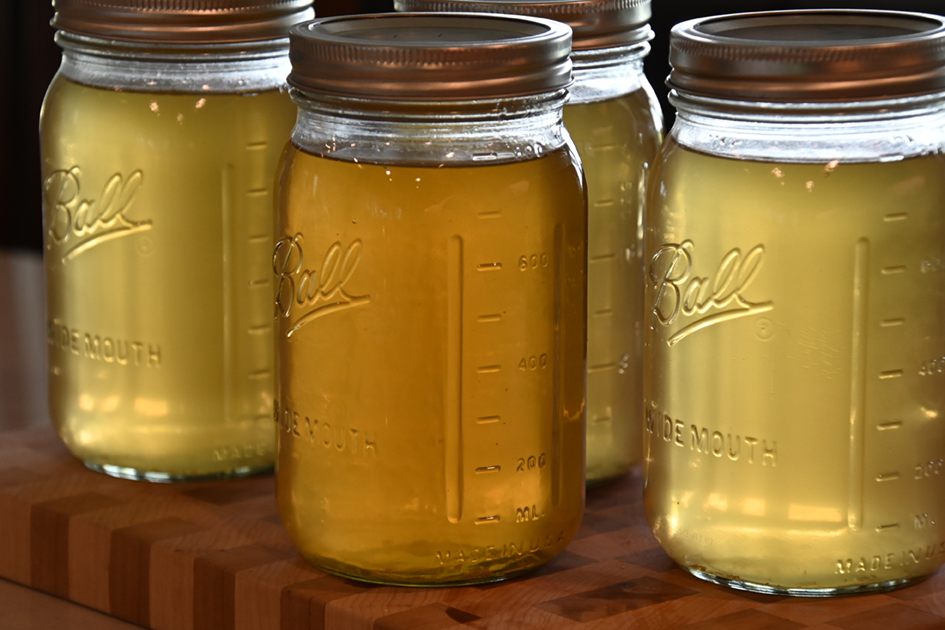 Chicken stock made from real ingredients can be a good source of nutrients, including protein, collagen, and minerals. These nutrients can provide various health benefits, such as supporting joint health and promoting gut health.
The process of making chicken stock can be therapeutic and satisfying. The aroma that fills your kitchen while simmering the stock can also provide a sense of comfort and warmth. Plus, it is fun and rewarding to know how to home preserve foods.
Home Canned Chicken Stock

Ingredients
1 3- to 4-lb chicken, cut into pieces
16 cups water
2 stalks celery
1 bunch green onions
4 large organic carrots
1 2′ chunk of ginger
1 Tbsp salt
10 peppercorns
2 fresh bay leaves
4 (32 oz) quart mason jars with lids and bands
Instructions
Prepare pressure canner. Heat jars in simmering water until ready for use. Do not boil. Wash lids in warm soapy water and set bands aside
Combine chicken and water in a large sauce-pot. Bring to a boil. Add remaining ingredients. Return to a boil. Reduce heat and simmer 2 hours or until chicken is tender. Remove from heat. Skim off foam.
Remove chicken from stock, reserving chicken for another use. Strain stock through a fine meshed sieve. Allow stock to cool to room temperature, then refrigerate until fat solidifies. Skim off fat.
Heat stock to a boil.
Ladle hot chicken stock into hot jars leaving 1 inch headspace. Wipe rim. Center hot lid on jar. Apply band and adjust until fit is fingertip tight.
Process filled jars in a pressure canner at 10 pounds pressure for 25 minutes, adjusting for altitude, according to your pressure canner's directions. Turn off heat: cool canner to zero pressure. Let stand 5 more minutes before removing the lid. Cool jars in canner 10 minutes. Remove jars and cool. Check lids for seal after 24 hours. Lid should not flex up and down when center is pressed.
© 2023 All rights reserved.