Pear and Pecan Cheese Ball
Jump to recipe
I adapted this recipe from one that I found on Eating Well.  It makes a perfect, quick and easy appetizer for gameday and yet it is sophisticated enough for a dinner party.  You can change things up a bit depending on your personal tastes.  For example, you could substitute finely minced apples for the pear, or ripe pineapple.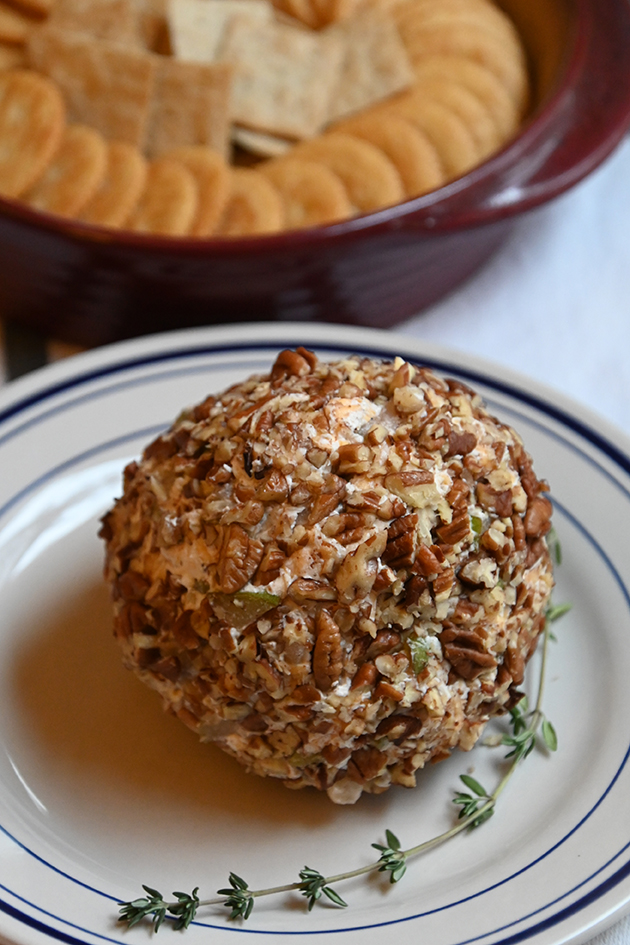 You could also serve it with a crusty bread instead of crackers.  The first time I made it, my husband ate half the entire cheese ball in the first fifteen minutes.
Pear and Pecan Cheese Ball

Ingredients
8 ounces cream cheese, softened
1 cup shredded cheddar or other cheese of your choice
1 and 1/2 firm ripe organic pear, finely chopped
1 scallion, white part only, finely chopped
¼ teaspoon ground pepper
⅓ cup finely chopped toasted pecans
Instructions
Stir all ingredients except for the pecans in a bowl. Take the cheese mixture and wrap it tightly in plastic wrap that has been sprayed first with cooking spray. Use the wrap to form the cheese into a ball and refrigerate overnight. Prior to serving, roll in the chopped and toasted pecans until it is well coated and serve with crackers or crusty bread.
© 2023 All rights reserved.