Green Chile Chicken Enchilada Casserole on the Lighter Side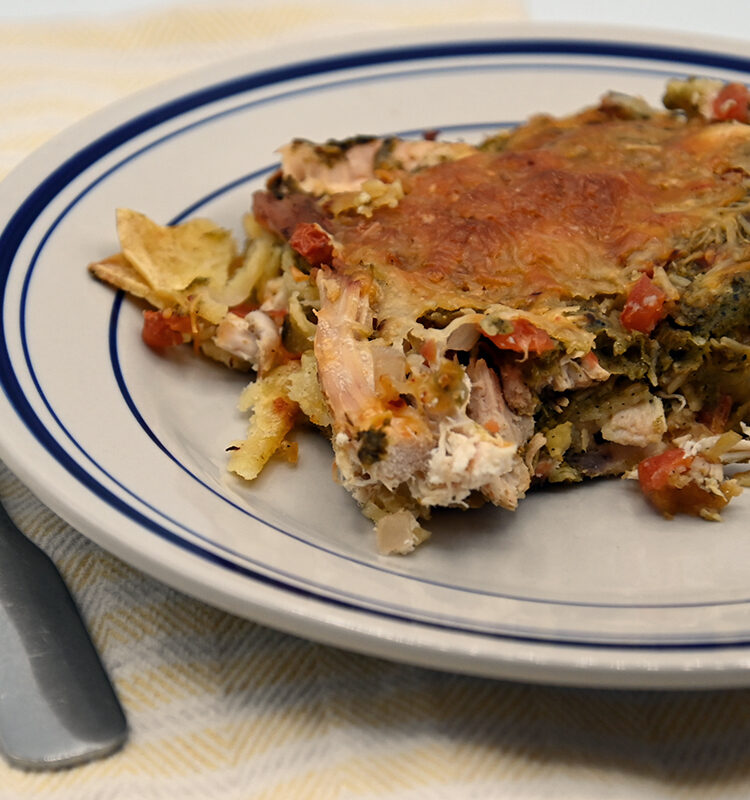 Jump to recipe
As is happening in most homes right now, we have made a lot of changes to our lifestyle while sheltering at home.  One of mine has been ignoring my food blog.  To be truthful, part of that is because my husband and I spent the first several weeks binge eating carry out, and by carry out, I mean extremely low quality "Chinese"  (it is blasphemous, actually, what Americans like to call "Chinese" food), Mexican street food (unapologetically – we love the stuff) and more pizza than I thought was possible. I admit it:  for several weeks we lived like human rats.
Shockingly, we gained weight.  I am not saying that Andrew can eat a whole pan of brownies in a day and a half, but I am not saying he can't either.  But everyone knows that pandemic baking is a thing.  Both Andrew and I were in the +7-10 lb. range at the beginning of August.    Around that time, Andrew read an article that asserted that the average COVID-19 weight gain was 16 pounds, and my response was, "Yay!  We can keep eating!"  (I am only partially kidding about that.)
All this to say that we decided that we had best rein the eating in or on the inevitable someday, when we can resume normal social activities, we will not be able to go because none of our clothes will fit us anymore, and, possibly, we will no longer fit through doorways.   We are doing well and have managed to shed the pandemic pounds, but we are not entirely cured of binge eating, so we are still lightening things up a bit and doing the hardest math problem in the world:  calories in less calories out.  The struggle is real.
In the midst of our quest, I stumbled across a recipe on one of the many cooking sites I follow. I wish I had written it down, but this recipe is based on that one – something pretty darn tasty, and pretty fuel efficient as well.  I hope you enjoy it.
Green Chile Chicken Enchilada Casserole on the Lighter Side

Total Time
1 hour, 45 minutes
Ingredients
Cooking spray
1 pound tomatillos, outer husks removed, rinsed
1 teaspoon olive oil
½ onion, chopped
1 fresh poblano chile pepper, seeded and chopped
1 teaspoon sugar
½ teaspoon ground cumin
¼ teaspoon salt
12 6" white corn tortillas, cut in half
3 cups shredded, cooked chicken breast meat
1 ¾ cups shredded reduced-fat Mexican-style four cheese blend (7 ounces)
16 ounces fresh salsa
Instructions
Peel husks from tomatillos and rinse. Spray a cookie sheet with cooking spray. Preheat broiler and broil tomatillos about 4-5" from heat until they begin to char, turning once. (About 8-12 minutes.) Remove from heat and set aside to cool.
Saute onions and poblanos in olive oil until tender and the onions begin to brown slightly at the edges.
Pour onion mix, tomatillos, cumin, sugar and salt into a food processor or a VitaMix blender and blend until smooth.
Line a 15x10 baking dish with foil.
Spread 3/4 cup of the tomatillo mixture in the prepared baking dish. Arrange six of the tortilla halves over the tomatillo mixture, overlapping slightly. Top with 1 cup of the chicken, 1/2 cup of the cheese, and half of the salsa, spreading evenly. Add six more tortilla halves and top with 1 cup chicken, 1/2 cup cheese, and half of the remaining tomatillo mixture, spreading evenly. Add six more tortilla halves, the remaining 1 cup chicken, and the remaining tomatillo mixture. Top with the remaining six tortilla halves and the remaining salsa, spreading to cover completely.
Cover the dish with plastic wrap and chill for at least 8 hours or up to 24 hours. Cover and chill the remaining 3/4 cup cheese until needed.
Preheat oven to 375 degrees F. Remove plastic wrap. Cover dish with foil and bake for 40 minutes. Remove foil then sprinkle with the remaining 3/4 cup cheese. Bake about 20 minutes more or until heated through. Let stand for 10 minutes before serving.
Nutrition information: calories 397; Total Fat 15 g; Saturated Fat 5 g; Monounsaturated Fat 1 g; Polyunsaturated Fat 2 g; Trans Fat 0 g; Cholesterol 65 mg; Sodium 1172 mg; Potassium 296 mg; Total Carbohydrate 40 g; Dietary Fiber 5 g; Sugars 7 g; Protein 28 g.
© 2023 © 2018 Erika N. Wyatt & Life, Love and Lemons. All rights reserved.